The gateway that identifies, connects and promotes authentic Italian trades abroad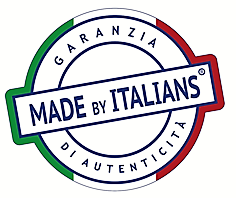 Made by Italians is a trademark established to increase awareness and guarantee the authenticity of Italian trades and products abroad. Made by Italians also serves as a network to bring together lovers of authentic Italian culture and provide a meeting place for Italian industry professionals and others who appreciate traditional Italian trades and artistry.
How we evaluate the Italian authenticity?
Italian Authenticity
Made by Italians is an independent trademark that recognises authentically Italian enterprises operating abroad in one of the four traditional industries: food, fashion, furniture, and mechanical engineering. These are known in Italy as "the "four As": Agroalimentare (food), Abbigliamento (fashion), Arredamento (furniture) and Automobili (automobiles)
Authentically Italian 
In order to be awarded the authentic Made by Italians trademark, it is necessary to comply with the five criteria below.
The employees pro quota (proportional share of Italians employed in the business, including the owners).
Italian techniques, traditions and methods used (for example, authentic and traditional Italian recipes).
Italian spoken with customers (which can be offered by native Italian employees or others who speak Italian).
Italian ownership pro quota of the business (proportional share of Italian owner of the enterprise).
Italian products (for example that is, majority produce of Italian origin).
It is imperative for Made by Italians that the application process is transparent and trusted. Hence it has the five criteria parameters that the Made by Italians Evaluation Board will evaluate from an application form and supporting documentation.
Find here some of the
Made by Italians
Partners
Are you interested in joining the Made by Italians network or would you like some more information? Complete the form below.